On March 1, 1954, two hundred and fifty-four members of the Eighty-third Congress were debating immigration issues when a Puerto Rican Flag was unfurled and pistol fire erupted from the "Ladies' Gallery" of the House of Representatives chamber. Four Puerto Rican nationalists, Lolita Lebron, Rafael Cancel Miranda, Andres Figueroa Cordero, and Irving Flores Rodriguez fired thirty shots at the representatives below, wounding five of them. One of the wounded was the Democratic representative from Alabama's Fourth District, Kenneth A. Roberts who was shot in the leg. The suspects were arrested, tried and convicted in federal court, receiving what amounted to life sentences. Eventually, all were pardoned in 1978 and 1979 by President Jimmy Carter, and they returned to Puerto Rico. Lolita Lebron would become a Puerto Rican nationalist heroine. She died in 2010 from complications from bronchitis.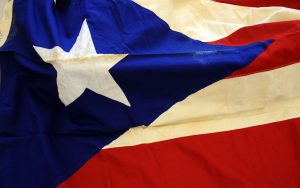 The Puerto Rican flag that Lebron had draped around her, one of the weapon magazines, and evidence envelopes were given to representative Roberts and are displayed in the library's John C. Payne Reading Room.
Kenneth Allison Roberts was born in 1912 at Piedmont, Alabama, the second of four children born to John Franklin and Josephine Burton Roberts. He graduated from Howard College (Samford University) in Birmingham and entered the University of Alabama School of Law in 1932. In 1935, Roberts graduated from law school and was admitted to the bar. During World War II he joined the Navy and served in both the Atlantic and Pacific theaters. Roberts represented Alabama's Fourth District in the U.S. Congress from 1951 through 1965. He is notable for his support of progressive legislation including: deduction of child care expenses for working mothers, air pollution control, safety belt standards, refrigerator safety, and the labeling of hazardous substances. Roberts co-authored legislation for migrant workers, children's healthcare, and American Indian healthcare. Following his congressional career he resumed practicing law in Washington, D.C., and kept an office in Brewton, Alabama. He served on the U.S. Vehicle Equipment Safety Advisory and the National Highway Safety Advisory committees. Roberts died in Potomac, Maryland on May 9, 1980.