The following is a post by our friend Kurt X. Metzmeier containing commentary on a letter from our collection.
George Robertson and Book Consumers in Early 19th Century Kentucky
by Kurt X. Metzmeier
In an interesting 1820 letter, Kentucky lawyer George Robertson illustrates some of the difficulties of a book consumer on the expanding American frontier:
Lancaster 6th July 1820
Gentlemen,
You have written to me twice that you had rec'd two boxes of books for me and sent them to Jas Anderson and Co. in Lexington. Since the reception of this information I have sent three times to Mr. Anderson but can't find the boxes. They say they never rec'd them.
I'm very anxious to get them—and fear that you did not send them. It is the third attempt I have made to get books here and have never succeeded yet. There is something very strange in the fatality that befalls my books.
Be so good as to examine and if you have them, send them on as soon as possible—or let me know what has become of them.
Respectfully &c
G. Robertson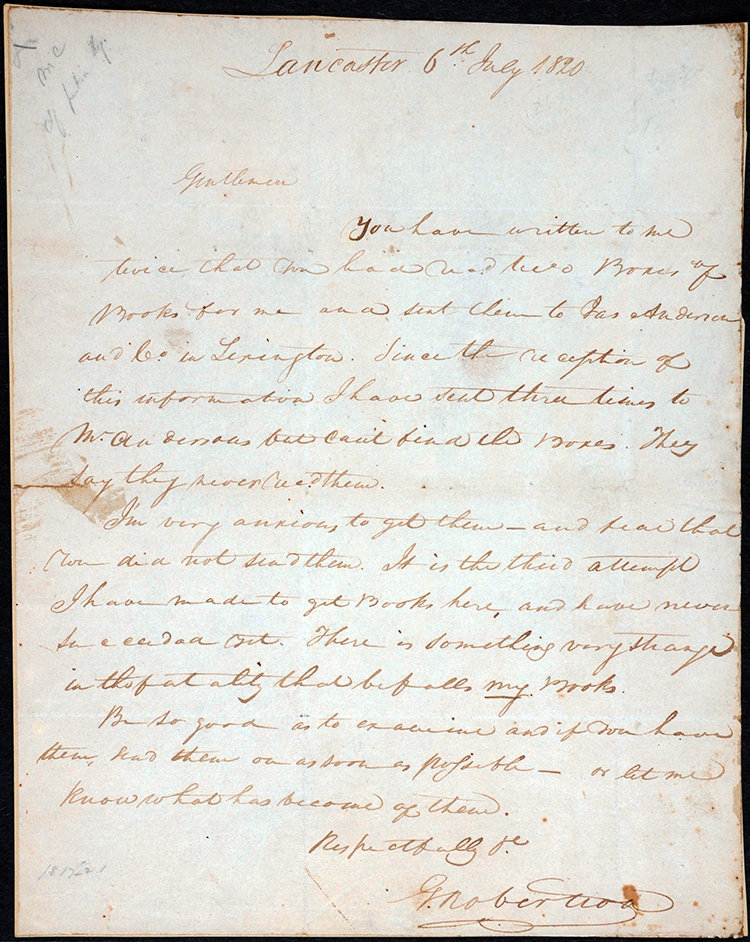 The letter is a nice find. It involves one of the towering figures in Kentucky legal history at an early point in his life. It also shines a light into the book trade on the American frontier and does so in the middle of an economic crisis. Finally, the tone of the letter is relatively mild but you can faintly discern the rumblings of a legendary temper, one that would lead to one of the more famous fits of pique in Civil War history, a stubborn conflict that would involve governors, state and federal courts, and President Lincoln's own wallet.
George Robertson (1790-1874)
George Robertson, whose portrait hangs in the courtroom of the Louis D. Brandeis School of Law, University of Louisville, served on Kentucky's highest court 1829 to 1834, when he resigned to resume his private practice. He returned to the court to serve from 1864 to1871.[1] For a quarter-century, he led the prestigious law department at Transylvania University, teaching men like John Marshall Harlan the rudiments of jurisprudence.[2] His decisions on issues of criminal law and tort law were widely cited, and Kentucky histories and bar tributes mark him as a leading figure in the pantheon of state judges.[3]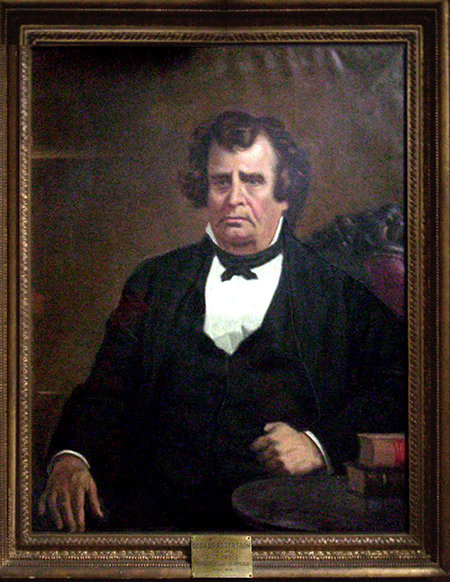 However, in 1820 this was all in the future. Robertson was at this time a journeyman lawyer (he had been practicing law since he turned 19-years-old) and a U.S. Congressman serving his third term. He had just completed a term as chair of the public lands committee and, in the prior year, had successfully sponsored a bill which he wrote to establish the territorial government of Arkansas.[4] However, being "poor and having a growing family," he would soon quit his seat to concentrate on the practice of law.[5] Perhaps the two boxes of books he purchased were the working law library he needed to establish his new law office.
The Kentucky Book Market in 1820
From his home in the Bluegrass, Robertson would have had many opportunities to assemble a well-balanced library and legal collection.[6] Nearby Lexington was the intellectual capital of Kentucky for its first half century. As noted by pioneer William A. Leavy (whose 1873 manuscript memoir depicts a commercial life in pioneer Lexington), in 1820 it already had several booksellers.[7] Most had long associations with the publishing centers in Philadelphia and Cincinnati.[8]
As the letter suggests, many Kentuckians also purchased books by post. In "Nursery of a Supreme Court Justice," Peter Scott Campbell and I examined probate records of books in the library of Robertson's neighbor from nearby Danville, James Harlan.[9] We found Harlan owned many titles from the "Law Library." Set up like the old Book-of-the Month Club, the Law Library was published by Philadelphia firm of T. & J.W. Johnson, which reprinted English legal treatises and mailed them out regularly to subscribers.