The following is an obituary of David Robb (1937-2021), a scholar who made use of our Frank M. Johnson materials and visited the John C. Payne Special Collections facility on more than one occasion.
David Metheny Robb, Jr. was born on April 12, 1937 in Hennepin County, Minnesota, and died on March 5th at Huntsville Hospital due to complications from COVID-19. David Robb and his wife Frances Osborn Robb are well-known in Alabama for their work in museums and for their efforts in historic preservation. Their joint projects included a finely executed display on Judge Frank M. Johnson, Jr. in the Middle District of Alabama Federal Courthouse in Montgomery, and the conversion of Congressman Carl A. Elliott, Sr.'s house in Jasper into a museum.
David Robb graduated from Episcopal Academy in 1955, and from Princeton University in 1959, where he majored in art history and developed a lifelong love of the graphic arts, printing, and travel. He served as a Naval Air Intelligence Officer on the aircraft carrier USS Oriskany for three-and-a-half years. On leaving the Navy, he worked as curator for noted collector and philanthropist Paul Mellon. After he married Frances Osborn Robb of Birmingham, they attended Yale University where they received Master of Arts degrees in art history.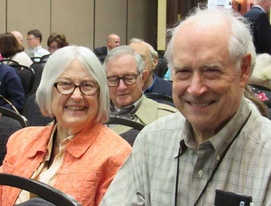 Robb then received a Ford Foundation Fellowship at the Walker Art Center in Minneapolis. In 1969, he was appointed founding curator at the new Kimbell Museum in Fort Worth, Texas and moved up the ranks to Acting Director in 1979. In 1983 Robb was appointed director of Telfair Academy in Savannah, Georgia, where he also oversaw two historic buildings, Telfair Academy and Owens-Thomas House. In 1985 he was appointed director of the Huntsville Museum of Art. While there he organized several initiatives, including the planning of a new stand-alone building for the museum. He retired in 1995, taking on special projects, many with Frances, and traveling in England and France.
Since then, Robb presented papers at professional meetings, published in Alabama Heritage magazine, and served on state boards, including the Alabama Historical Association and the Friends of the State Archives. David Robb will be buried at Maple Hill Cemetery in Huntsville, Alabama. Donations in his memory may be made to the Alabama Historical Association and the Alabama Department of Archives and History.
The editors of Litera Scripta offer their sincere condolences to Frances Robb and salute the memory of David Robb, gentleman and scholar.