David Ernest Alsobrook (1946-2021)
It is with great sadness that we announce the death of David E. Alsobrook at the age of seventy-five. A contributor to Litera Scripta, David was a consummate Public Historian. In addition to working as a supervising archivist at the Jimmy Carter Presidential Library in Atlanta, he was the founding director, successively, of the George H.W. Bush Presidential Library and Museum and the William J. Clinton Presidential Library and Museum.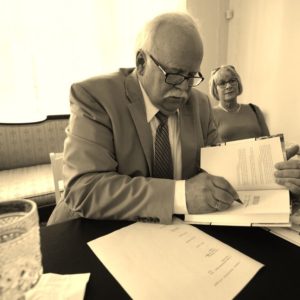 Just last year, David reflected upon his long archival experience in a book titled Presidential Archivist: A Memoir (Mercer University Press, 2020). After retiring from the National Archives and Records Administration, David served as director of the Museum of Mobile from 2007 until his retirement in 2015.
David was a prominent Alabama historian. His finished his doctorate in history at Auburn in 1983. His dissertation "Alabama's Port City: Mobile in the Progressive Era, 1896-1917" remains a fine example of urban history. His study Southside: Eufaula's Cotton Mill Village and Its People, 1890-1945 (Mercer University Press, 2017) chronicled the difficult lives of millworkers while giving a human face to life and labor in a company town.
Such scholarship did not go unnoticed. David's 2004 Alabama Review article on Mobile's 1902 street car boycott won the Alabama Historical Association's Milo B. Howard Award. His book Southside won the Association's Clinton Jackson Coley book award in 2018. That year (2017-2018) he served as president of the Alabama Historical Association.
In addition to all of the above, David Alsobrook was the embodiment of what it means to be an Auburn person. As the first graduate of Auburn's storied Archival Training Program, he sought to live up to Dr. George Petrie's "Auburn Creed," which begins: "I believe that this is a practical world and that I can count only on what I earn. Therefore, I believe in work, hard work." On the other hand, several people who have commented on David's passing remarked upon his affability and kindness.
See below for his Litera Scripta post titled "Jessie Gillis Parish: A Woman Voter of Barbour County, Alabama."