Farrah Hall Benches Exhibit
FARRAH HALL BENCHES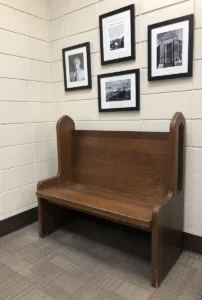 From the 1927 dedication of Farrah Hall as the new home of the University of Alabama's law school until its relocation to the Bryant Drive campus in 1978, University of Alabama law students attended classes seated on these signature benches.
Intended to inspire students to appreciate the historical foundations of American law, the benches evoke a sense of tradition one feels when imagining Sir William Blackstone teaching law at Oxford in 1753 or notions of the English Inns of Court.
The Farrah Hall Benches Exhibit can be viewed in person at the Bounds Law Library, study room 207.