This post by Rodney Lawley is an addition to our recent acquisitions. Lawley works with Litera Scripta editors as a research assistant in the special collections and archives of the Bounds Law Library.
The work of Porter King, a prominent nineteenth-century lawyer, state legislator, and businessman from the State of Alabama, is featured in the latest acquisition of the John C. Payne Special Collections of the Bounds Law Library. The Judge Porter King Ledger is a six-page legal document detailing criminal court fees issued by the Court of Perry County, Alabama (February 11-19, 1878).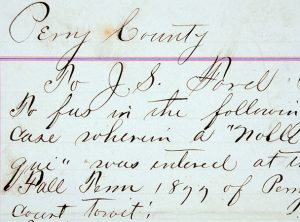 Judge King was born April 30, 1824, in Perry County, Alabama, and was the son of a wealthy Alabama plantation owner. After attending the University of Alabama and Brown University prior to 1843, King studied law under the tutelage of Colonel Thomas Chilton in Marion, Alabama. He began his law practice in 1845 and was elected to the state legislature for a single term in 1847.
Upon completing his term, King practiced law in Marion, Alabama, and he was subsequently elected as an Alabama Circuit Court Judge in 1850. King served the state in this capacity for fifteen years, interrupted only briefly by a one-year command of an Alabama Civil War regiment. In 1865, King was unseated from the Circuit Court by Governor Lewis E. Parsons, a provisional official appointed by President Andrew Johnson.
Following his removal, King applied his talents to business and served in many important roles, including director of the insurance company Central City, the Commercial Bank of Selma, and as president of the Selma, Marion, and Memphis Railroad.
King was later appointed as Alabama Probate Judge in 1877. It was during this short two-year term that he signed the ledger documents acquired for this collection. Although King was a probate judge during this period, the court fees levied in these documents are based upon criminal court convictions in cases such as murder, burglary, and affray. This action is supported by The Code of Alabama 1876 directing probate judges to act as the ex officio judge of a county court. It is with such legal warrant that Judge King executed the fee judgements recorded in this collection.
Although King's service as probate judge was his last role on the bench, he is remembered fondly in an 1890 Birmingham Daily News article referring to King as "one of the best judges the state has ever had." The article continued this acclaim by adding, "For the last thirty years he has been the most prominent man in the state."
Documents within the Judge Porter King Ledger are directed to local sheriffs and constables and describe fees and costs pertaining to the issuance of writs, the serving of subpoenas, and other court actions that require public funding.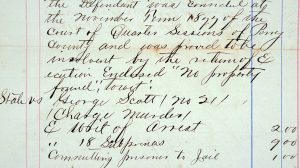 One such document describes the court's charge of twelve dollars and eighty cents for services provided in administrating a burglary charge. In this case, ten cents per mile was billed to the defendant for guard services required during his incarceration. Similarly-rich detail is provided for other court decisions, including conviction-related fees for the quasi-anachronistic charge of "carrying concealed brass knuckles."
Judge Porter King died January 3, 1890, in Atlanta, Georgia, after "suffering about a month with a dropsical affection." The John C. Payne Special Collections is pleased to present this representation of his historically-significant work.
Rodney Lawley
Sources
"An Alabama Jurist." Birmingham Daily News. January 3, 1890, 6.
Owen, Thomas McAdory. History of Alabama and dictionary of Alabama biography. Volume 3. Chicago: S.J. Clarke Pub. Co., 1921. See 3:982 of the 1978 reprint by The Reprint Company, Publishers.
State of Alabama. The Code of Alabama 1876. "County Courts," §719, 339.