For the next offering in our series titled "Preserved in Amber," we feature a post by U.A. law student Hudson Cheshire on our Hannis Taylor collection. This collection consists of a copy of Taylor's 1908 treatise The Science of Jurisprudence with two of his letters affixed to the endsheets. The letters are addressed to Cambridge history professor J.B. Bury. They seem blatantly self-promotional, but Cheshire demonstrates that they are also poignant and suggestive documents—items that transform this copy of a long-forgotten book into a unique archival object. Taylor (1851-1922) was a politician, lawyer, and prolific author associated with Mobile and Washington, D.C. We at Litera Scripta have long regarded him as an interesting and collectible writer (the subject, also, of a well-constructed biography).
Hannis Taylor's Science of Jurisprudence: Book as Text, Book as Object, Book as Legacy
In any physical book there are multiple stories at work.
Of course, there is the text itself: the words and sentences and paragraphs through which the author communicates his ideas. But in addition to the text, the history surrounding the text also tells a story. One might think of Harper Lee's childhood in conjunction with her novel, To Kill a Mockingbird. But every text is also influenced by other texts. Doubtless, Go Set a Watchman changed the way most readers see the stoic, justice-seeking attorney, Atticus Finch. Finally, the physical object of a book also tells a story: with time, any physical book may be dog-eared, annotated, or otherwise marked by its readers. Through these physical traces we are given glimpses of another story still. Perhaps the greatest allure of opening an old book is the chance to observe all of these different stories as they intersect and intertwine.
The subject of this blog post is a 108-year-old copy of a little-known book: The Science of Jurisprudence, by Hannis Taylor.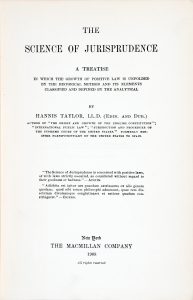 The book is noteworthy in its own right as the work of a once important Alabama resident advancing a unique theory about American history. The library's particular copy of the book is interesting for what are pasted onto its end sheets: two shamelessly self-promotional letters from the author to a professor overseas. Perhaps the most interesting aspect of the collection, however, is what happened only months after the letters were penned.
To say the least, there are many different stories buried in this particular old book. Perhaps the best place to begin is with the book's author: Hannis Taylor. Though nearly forgotten in contemporary scholarship, Taylor was an important figure in his own time, not only for his published writings, but also for his influence as both a lawyer and political figure. Read the rest of this entry »