The editors of Litera Scripta would like to announce a unique new addition to our collections. As part of a recent donation, we have installed an exhibit that features a desk and chair set from Alabama's old senate chamber. The Alabama senate desk and chair exhibit is located at the entrance to our John C. Payne Special Collections Reading Room.
DESK AND CHAIR SET FROM THE OLD ALABAMA SENATE CHAMBER
The Alabama state senate desk and chair were purchased by former Alabama state senator Gary L. Aldridge. The sets were offered to sitting senators at the time that they were removed from the Senate Chambers at the state capitol in 1985.
Gary Aldridge was a 1978 graduate of the University of Alabama School of Law who died in a 1998 rafting accident in Alaska at age 47. His widow, Marsha White Aldridge said of Aldridge, "throughout his professional and public career Gary truly dedicated himself to making sure the law worked for everyone."[1]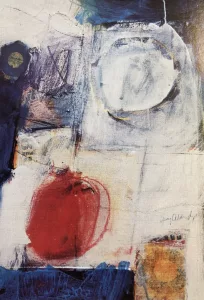 At the time of his death, Aldridge practiced law in Birmingham with a concentration in class action and personal injury litigation. He previously practiced law in Decatur, Alabama and served as a municipal judge in Hartselle, Alabama. Aldridge was elected to the Alabama state senate in 1982. As senator, he co-sponsored the "Martin-Aldridge Act" that reformed Alabama's child abuse and neglect laws into a model for states throughout the country.
In addition to his legal career, Aldridge was an accomplished artist specializing in mixed media abstract paintings such as "blue enso," which was his last completed work. Of her late husband's interests, Marsha Aldridge said "The law fed his spirit, but it was painting that nourished his soul."
The Bounds Law Library would like to acknowledge Marsha Aldridge King for this generous donation.
[1] University of Alabama School of Law, Capstone Lawyer (2000), 33-34.